Gold Market commentary is opinion only and not to be construed as formal investment advice.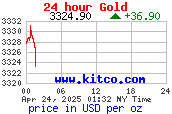 May 2021 Gold looking to break out of a consolidation range - likely on rising inflation concerns.
May 2018 STILL STUCK IN A TRADING RANGE. Market needs to make a breakout one way or the other to confirm trend.
2016-12017 - market in mid term uptrend, however a breakout above resistance is needed to confirm longer term up trend.
October 2014 - support was tested at 1200 again, and after a momentary dip prices rebounded strongly off of support levels as expected. This would make a significant technical triple bottom if it holds.

It remains to be seen whether this support will be retested again and if it will continue as a mid term bottom. Our expectation is that this level will be retested again and may provide buying opportunities for short term range trading.

We do not yet see a resumption in the long term bullish trend - still more consolidation to come.

Always keep in mind the growing evidence of government/banks gold price manipulation as well. The cat is slowly coming out of the bag as to the full extent, and when it is fully realized we expect gold to shoot up. Until then however, we expect more suppressed and unnatural price action. Use extra caution.
---
9/13/12 after being in an extended trading range - Gold reached new 6 month highs - pushing the price over 1775 per troy ounce. Looks close to signalling a buy on 5 year trend chart. 1 year chart has been a buy signal for months since June.

Always be wary of a major break in trend at these lofty heights, as the price has run up so fast there is little real support until the 1200 range.


---
3/1/12 in a definite trading range 1600 to 1800. Expect wide fluctuations and repeated testing of highs and lows within this range until price finally breaks out. Areas like this are often a good spot to trade short to mid term.
9/11/11 More historic highs - getting toppy now- expect pullback and resumption of upward trend after some extended rest
UPDATE: September 2010: Again ....new record gold highs!
UPDATE: May 12 2010: more new record gold highs!
April 8 2010 gold appears ready to break out of its recent consolidation. Still bullish but expect strong resistance at it's old high.
UPDATE: March '10 Gold will need to break out of 1150 to resume upward mid term trend.
UPDATE: DEC '09 After reaching dramatic new highs - Gold is expected to remain in a trading range for the near future. A period of consolidation is a good thing for the future as the big run up was too quick and exhausted itself.
UPDATE: FEB '09 As expected, gold continues to climb and appears ready to retest the old highs reached last year.
Just like in the 1980's boom, reports are coming in of people quitting their day jobs to prospect for gold full time again. New mines are opening and old ones are being reopened. New mining claims are being snatched up at record pace.
November 24 2008 - gold rallying off recent weakness. We understand recent weakness to be in large part due to forced liquidations by large funds to meet rising withdrawals by customers selling out their stock market positions. Selling pressure seems to have eased up and gold seems posed to resume upward trend. Overall stock market and economy remains in shambles - further leading investors to consider gold as a safe haven once again. September '08 we saw a nice rebound in gold prices though it stopped short of reaching old high. July 08 - gold markets attempting to make new highs once again. 2/27/08 Prices are still up and up - new highs have been made repeatedly in the last month. Everyone seems to think $1000+ per ounce is only a matter of time. How much higher is anyone's guess.
1/9/08 With all the talk and excitement over the new prices just reached, one should keep in mind that the new record high price of gold is still considerably lower than the inflation-adjusted peak of about $2,200 per ounce. Many see this as a sign that there is a lot more room to the upside. For a good counter argument you may wish to read the excellent Jon Nadler article: Peak, or...NO Peak?.
Either way this is going to be a fun ride. My two cents worth: underlying fundamentals don't matter nearly as much as what people think is really happening. In other words whether the value of a stock or commodity like gold is under or over valued in reality matters less than the perception by people. Facts and numbers alone don't move markets - people's reactions: fear and greed move markets.
1/02/08 Big Move upwards today to ring in the New Year.
Mid November to early December. We saw pretty much the anticipated trading range - bouncing around support and resistance levels. Seems poised for a turn shortly.
11/05/07 We are really off to the races now. Huge momentum to the upside. Unexpected strength. Recent moves probably linked mostly to weak US dollar and rising oil prices. Looking kinda similar to the peak we saw back in May of 06. See the 5 year gold chart. Most big runups are met with resistance at some point and then a period of consolidation before resuming trend.
UPDATE: 10/16/07 still no sign of a major slowdown or trend reversal. Could still happen but upward trend appears very intact. On the retail side of the gold nugget market - after a period of hesitation and aclimation to new pricing - new orders are coming in much faster now with people expecting new highs to continue. Supplies from independent miners are drying up and no one wants to sell.
UPDATE: 10/4/07 As predicted gold prices reached new long term highs recently. Many experts predict we may see a short period of consoldiation before a resumption in the upward trend. Others think the run up has been exhausted and we are overextended. We'll see. Either way it's been a fun ride and we'd still rather have our money in gold than in paper.
UPDATE: 9/17/07 Gold Price Outlook: Gold prices have been a real tear recently threatening to break out of short term resistance and climb to new highs. See the gold charts here.
The metal is within striking distance of the 26-year high of $730 an ounce it hit back in May of 2006. However, it is still about $130 below its all-time high of $850 reached in early 1980.
Large gold sales by the Bank of Spain, and lately by the Swiss National Bank, have undermined gold sentiment, analysts said. But the weakness of the US dollar and strong physical demand from India, the Middle East and China have been pushing up prices also.

Other things to consider: The metal has regained its footing since tumbling to a seven-week low of $641.10 in mid-August, when investors sold gold to raise cash to cover margin calls on losses ignited by a meltdown in the U.S. subprime mortgage market.

Expectations of an interest rate cut and concerns about slower U.S. economic growth also tend to bode well for gold.

Chart shown above: "The weekly chart shown this week shows the resistance level and potential double top. There are other things of interest on this chart that one can point out. The most beneficial is the understanding if one is in a long term bull market or not. Nothing is perfect in this world but the following is about as good as it comes, to understanding a bull or bear market. To determine if we are in a bull or bear market all one needs is a long term moving average of the price (here I show the 40 week moving average) and a long term momentum indicator (here I use the 30 week RSI). When the slope of the moving average line is pointing upwards and the momentum indicator is in its positive zone, above the 50% line, we are in a bull market. This occurred on 10 Aug 2001 at $273.90 (see arrows). To now change to a bear market you need both of these features to reverse, the moving average pointing downward and the momentum indicator below the 50% line. Up to this point we have not had both of these negatives at the same time so we are still in a long term bull market. Should the price of gold drop to the $630 level for a P&F reversal, that would also most likely cause the momentum to go negative and the moving average to turn down. AND we could then have a serious bear market on our hands. Letís hope that the existing trend continues, although short or intermediate term reversals are always expected along the way. So, still bullish on the long term." Chart and commentary courtesy of: Merv Burak CMT Technically Precious with Merv


Update: Sept. 7, 2007
Raw Gold prices have been rising for months, climbing as high as $732 an ounce recently, up from about $300 five years ago. While that's still far from gold futures' all-time high of $875, reached in January 1980, the advance has been very impressive.
Some market experts expect gold prices to resume its march higher, and perhaps surpassing $1,000 an ounce, since gold isn't anywhere near its record when adjusted for inflation - about $2,100 an ounce.
Now is a great time to consider investing in gold. Chart shows growth of Gold bullion prices last 365 days. Below gold over last 5 years. Charts courtesy of kitco.com.

REMEMBER QUALITY GOLD NUGGETS ALWAYS SELL FOR A PREMIUM OVER MELTED DOWN RAW GOLD SPOT PRICE DUE TO RARITY AND COLLECTIBILITY.
See our free tips on buying gold nuggets and gold panning concentrates without getting ripped off below.